Share the magic of early learning

User-friendly software to document learning
and build family engagement.
Share with families, link to curriculum, plan,
log evidence of learning. All in one place.

Online

 documentation
Build child eportfolios as you go, manage plans, milestones, teacher portfolios, collaborate with colleagues.

A closer family connection
Share observations, images & videos on the spot, linked to learning. An online community around each child.

Differentiated planning
Informed family feedback, reports and online visibility raise program quality and improve plan decision making.
Educational tools all tied together >
An Educational Solution From New Zealand
Educa was developed with guidance from NZ ECE thought leaders to:
Engage families — share observations linked to curriculum
Meet regulatory needs — evidence of learning, reports
Aid collaboration — online sharing raises everyone's game
Educa is agnostic — plug-in any curriculum or learning goal set, create plans, build assessments.
The software has a clean, simple look with options to change just about anything to fit your process.
Time-Saving Documentation
Share with parents and add to a child's portfolio in one click, avoiding duplication of effort. Online planning and documentation makes it easier and quicker to collaborate and share with colleagues and families. And save on printing and paper costs.
Involve Parents In The Learning
Sharing observations tied to learning goals educates parents, leading to follow-up activity at home and better feedback. This helps teachers better meet the unique needs of each child – a virtuous loop.
Separate From the Competition
Improve your attractiveness to new families with professional communications that constantly reinforce your curriculum and value. Raise your service levels with software tailored to your needs.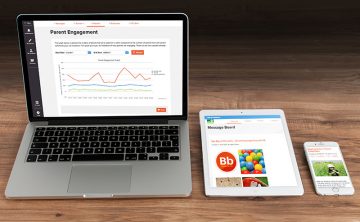 Any Device, Anytime, Anywhere
Detailed Reports
See how many parents are engaging, child portfolio details, teacher activity and much more.
Less Paper
Documentation of learning, planning, daily routines, policies, notices, newsletters — all online.
Pre-Loaded Curriculum
Inform parents and follow required standards by connecting to any learning goals — state guidelines, custom sets or your own curriculum.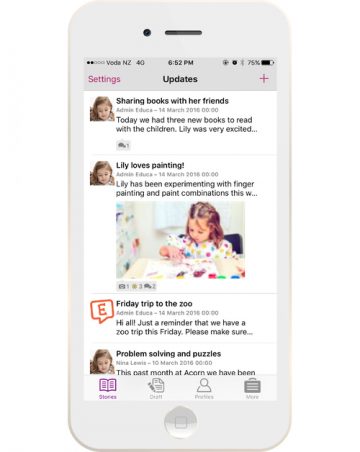 All In One Place
Replacing email, Facebook, photo apps, etc., teachers and parents have one go-to channel. Easier to manage, less is missed.
Child Portfolios
Notes, conversations and activity automatically saves to a downloadable child portfolio.
Improved Engagement
Parents see important messages, and they give feedback on their child.
Set your service apart.
Join 150,000 educators & families worldwide.
Start your free trial today, no credit card required.