Share the magic of early learning
Assessment & family engagement together
Heart-led documentation using Learning Stories
More time for what matters
Learning Stories serve two needs – family reporting and assessment. They change how you spend time – less data collection, more reflection & focus on children.
Connect meaningfully
Regular and reflective sharing of learning in real time builds collaborative relationships. Peer and family feedback helps individualize your teaching.
Make Learning Visible
Educational outcomes improve when teachers and families work together with shared understanding.
Our learning story software helps teachers observe, notice, document and share each child's unique journey in a format that invites feedback and collaboration.
Educa gives you room to provide context and express yourself in your stories – expansive or brief, with images, videos and fancy layouts, or not.
This open format applies to each step in your program cycle. Educa is a complete educational solution – all in one place.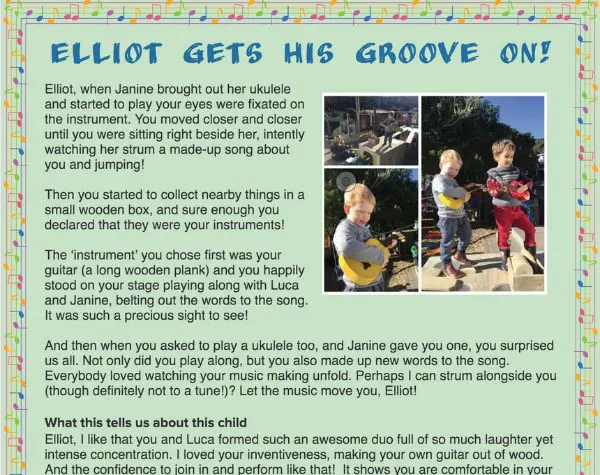 Educa uses Learning Stories, a narrative assessment format. Build a purposeful partnership with families – share stories in real time, integrate their feedback into your teaching and create a 24/7 learning clock.
The need to write Learning Stories about what represents growth for a child encourages teachers to observe more closely and to reflect. The process promotes understanding and differentiated teaching.
Each story, individual or group, provides an insight into your service – a way to showcase your philosophy, your teaching and to show families you care. This builds family trust and confidence in your approach.
Educa supports program or data cycles from end to end, organized around each child – on any device. Individual and group planning, a custom form builder, Learning Stories and assessment rating – all in one place.
Mentoring and collaboration tools help support teachers at all levels. Furthermore, each teacher has a private workspace for professional development. More here
Reports on learning for each child, on parent engagement, on teacher activity and more help you understand your service and save time in compliance.
Any Device, Anytime, Anywhere
Portfolios - Print, Save
Share with families and save to a portfolio in one click. Download or print as needed.
Forms & Assessments
Use our Ratings module for DRDP-based assessment and our form builder to put any documentation online. Start fresh or use one of Educa's many templates.
Any Framework
Upload any framework or goal set or create your own. Then link to anything you write in Educa.
Document Portal
Share policies and resources with teachers only or with parents also.
Planning
Create lesson plans, individual and group plans. Work individually or collaborate. Share with parents, link to stories.
Foreign Language Versions
Users can choose Educa in English (default), Maori, Mandarin, Spanish or Arabic.
Start a free 15 day trial
Create your own private Educa site. No credit card required.