Educa For Schools

Transform family relationships, support teachers.
Make Families Part of the Learning
Individualise education, build a culture of success
Use Educa to make learning visible and celebrate student success – in real-time.
Informed feedback from parents builds teacher understanding of each student and helps them individualise learning. Furthermore, Educa makes it easy to celebrate and share student successes, which helps build confidence and learning resilience – supporting higher levels of achievement.
About Educa
Educa is a communications and documentation platform, founded in New Zealand in 2011.  We started in early education and now provide an online service (with phone apps) to serve OSHC, primary and secondary schools.
Share with families in one place — individually or collectively
Students can share their own learning
Teacher portfolios – for inquiry, registration
Student goals, family surveys, soft skills reporting and other online documentation available
Educa serves over 1,500 schools and early childhood centers in New Zealand. Australia and North America. We are a standalone solution that works for any school in Australasia. We are partnered with MUSAC Edge to create added efficiencies for NZ schools, and integrated with Google Drive.
Save Time With Group & Student Updates
Share small samples of learning frequently using student-initiated posts and group observations written by teachers that post to individual student portfolios. Families can also contribute learning examples.
Manage Teacher Registration
Bring your teachers together in one system — they can share evidence and resources, and schools can see where teachers stand. More here
Curriculum Links - Meaningful Sharing
Link stories, including stories by students, to school curriculum goals, key competencies or plans. Stories start meaningful conversations with parents, extended family and specialists.
Teacher Portfolios Educators Will Love
Each teacher has a private portfolio. Linking to evidence in Educa makes it quick and efficient. Accepted by the Education Council.
Control Access & What Goes Out
Privacy, mentoring and approval settings support new teachers, allow outside specialists onto student profiles, and helps manage what goes to parents.
Post Policies and Resources
Share policies with teachers, parents or both in the Policies module. There is a Resources section also – upload resources, such as school forms or info for parents or reference materials for teachers.
Reporting Soft Skills
Because anything shared with parents can link to any objectives, including soft skill measures, Educa collects data for reporting on soft skills. We are working with several Australasian schools on report formats.
Announcements & News
Send messages to parents that will be read. When parents login, the message board is their first screen.
Is parent communication taking too much time?
Replace email, paper and the rest. Reach parents
through one easy channel that goes to their phones.
Use Cases for Educa
Learning Support
Create a 360 degree circle of learning around your learning support students — create visibility for teachers and families.

After School Care
Keep parents in the loop and involved, tracking after school activities and logistics in Educa.

Working with Google Docs
Educa works well with Google Docs to highlight student success and engage families.
Fergusson Intermediate case study >
The Case for Learning Stories in Schools
The learning story is an assessment device that came out of New Zealand's early childhood education sector that is gaining traction in primary, intermediate and secondary schools.
Learning stories capture the unpredictability and non-sequential way that students learn, in a format that is engaging for families. Learning stories – written by students or teachers —  are written from the story-tellers perspective.
The accessible format nurtures collaboration between educators, families and the student — a sharing and re-telling of the learning that helps deepen insights into learners of all ages (Learning Stories For Secondary Schools, Amanda Picken, 2012).
Educa has learning story templates to guide students and teachers.
Flexible, Easy To Use and Local
Live Support in Australasia
We provide regular workshops and one on one training if requested.  We are based in NZ and will always pick up the phone if you call.
MOE Compliant Servers
Educa uses AWS hosting that meets Australasian school requirements to be hosted in Australasia. Educa meets all known Australian state requirements also.
For Australasian Schools
Educa is a local provider, we are living with and responding to changing school requirements in New Zealand and Australia.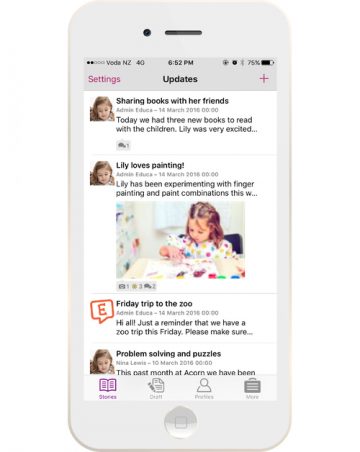 Print or View Online
While Educa saves printing costs, stories can be printed or saved as PDFs. Similarly lesson plans and reports can be printed.
Flexibility to Handle Soft Skills & More
If required, Educa would make the transition to soft skill reportng easy.  It also has planning, assessment and review documentation options.
User-Friendly Look and Feel
Educa is easy to use with big buttons and lots of space. It's not one of those busy, hard to use business systems that tries to do too much.
Set your school apart.
Join 300,000 teachers & families worldwide.
Start your free trial today, no credit card required.
Educa for New Zealand Schools
Live Support in NZ
Educa has live help for staff and parents, based in Wellington.
Designed for NZ schools
Educa was developed in NZ, designed to support an inquiry-based philosophy.
Known by ERO
Educa has been working with ERO since 2010, helping ERO inspections go more smoothly.
Teacher Portfolios
Educa provides ERO approved portfolios for inquiry and registration, with linking to Teacher Standards.
Link to Curriculum
Educa has national curriculum goals and teacher standards already loaded, available for linking.
Planning
NZ teachers are highly collaborative.  Educa offers planning keeps teachers on the same page.
What customers are saying

Watch videos on our teacher and student portfolios