Document & share learning

Streamline family communications and documentation,
an educational solution for schools.
Make families part of the learning
Educa is a communications and documentation platform, founded in New Zealand in 2010.  We started in early education, and now provide an online service and phone apps to help primary and secondary schools document and share learning.
Communicate with families in one place — by school, class or individually
Connect updates to curriculum goals or key competencies — bring families into the loop
Provide teacher portfolios to your staff
Reports help schools make data-driven decisions
Adapt Educa to fit your process – communications, documents, workflow, approvals, and more.
At the heart of Educa are"stories" linked to curriculum goals, key competencies or plans, shared with parents, printed and saved as evidence of learning.
Each teacher has a private portfolio to store documents and record professional development and reflections linked to standards. Mentoring settings help new teachers.
Online Documentation
Educa has form builders and planning tools to manage other aspects of your school day, including individual and group plans, assessments, school quality reviews and appraisals.
MOE Compliant Server Hosting
Educa uses AWS hosting that meets New Zealand MOE requirements to be hosted in Australasia. Educa meets all known Australian state requirements also.
Educa creates a community around each child. Stories start meaningful conversations with parents, extended family and specialists. Family can also post stories.
Send announcements and news to your families from our message dashboard. Share policies and resources through your own secure parent portal.
Are your parents listening?
Replace emails, paper announcements and newsletters
with a private channel that goes right to parent phones.
Special Use Cases for Educa

Learning Support
Create a 360 degree circle of learning around your learning support students — create visibility for teachers and families.

After School Care
Keep parents in the loop and involved, tracking after school activities and logistics in Educa.

Te Reo, Bi-Cultural Programs
Educa has a Maori language version (Mandarin, Spanish and others) to help all families feel included.
Case study on language barriers >
Any Device, Anytime, Anywhere
Teacher Portfolios
Each teacher has private section to record their development, including appraisals. Mentoring options also.
Private Channel With Parents
Send to all or selected groups from central dashboard, private parent-teacher conversations.
Online Family Portal
Reduce printing costs and provide convenience to parents by putting policies and resources online.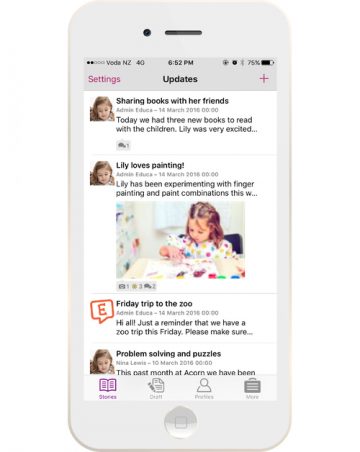 Online Documentation
Planning, assessment and review documentation. Teachers can collaborate or access individually.
Reports
Downloadable student progress and school activity reports for compliance or management.
Student Portfolios
Updates linked to key competencies or curriculum goals save to a downloadable portfolios.
Set your school apart.
Join 150,000 teachers & families worldwide.
Start your free trial today, no credit card required.
What customers are saying