California Frameworks & Foundations, DRDP
California Overview
At the center of the California early learning system are the Learning and Development Foundations. They are the "what" — the knowledge children acquire, the skills they develop, the behavior they learn, and their social and emotional competency.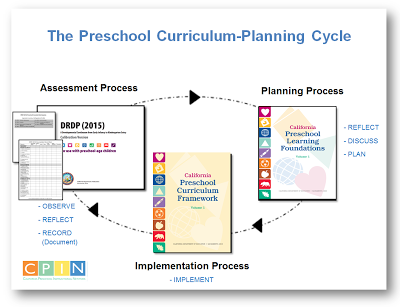 The Desired Results Assessment System, called the Desired Results Developmental Program (DRDP) is the checklist of outcomes that providers should work towards for each child. Here is an assessment worksheet.  Learn more in this DRDP slideshow.
Working backwards from these desired results, Californian providers use the Preschool Learning Foundations to plan a curriculum and the Preschool Curriculum Framework to implement the Foundation standards as adopted by the State Board of Education of California.
This is all supported in California by a huge array of resources and professional development programs.
California Learning Foundations
The foundations describe competencies that most children can be expected to exhibit in a high-quality program and identify paths of learning that, with appropriate support, children typically move along during the infant, toddler and preschool years.
The Foundations are designed to promote understanding of young children's development of knowledge and skills and to help teachers, program administrators, families, and policymakers consider appropriate ways to support children's learning. Teachers use best practices, curricular strategies, and instructional techniques that assist children in learning the knowledge and skills described in two sets:
Preschool Learning Foundations (with age breaks at 48 months and at 60 months)
Infant/Toddler Learning and Development Foundations.
Play & Purposeful Teaching
Learning Foundations draws from research and findings by experts in the field.  It has among its philosophies the idea that many children learn simply by participating in high-quality child care and preschool programs that offer environments and experiences that encourage active, playful exploration and experimentation.
With play as an integral part of the curriculum, high-quality programs include purposeful teaching to help children gain knowledge and skills.
California Infant/Toddler Learning & Development Foundations
In California, priority has been placed on aligning the infant/toddler learning and development foundations with the preschool learning foundations in four major domains:
Social-emotional development
Language development
Cognitive development
Perceptual and motor develop­ment
California Preschool Foundations
The California Preschool Learning Foundations are presented in three volumes, covering a total of nine domains:
Social-Emotional Development
Language and Literacy
English-Language Development (for English learners) and Mathematics
Visual and Performing Arts
Physical Development
Health
History–social Science
Science
Each domain has strands.  For instance, the social-emotional develop­ment domain consists of the following three strands:
Self, which includes self-aware­ness and self-regulation, social and emotional understanding, empathy and caring, and initiative in learning.
Social Interaction, which focuses on interactions with familiar adults, interactions with peers, group participation, and cooperation and responsibility.
Relationships, which addresses attachments to parents, close relationships with teachers and caregivers, and friendships.
Teaching Practice
The foundations have the practical elements of teaching young children including setting up environments, supporting children's self-initiated play, selecting appropriate materials, and planning and implementing teacher-guided learning activities. Two major considerations underlie the practical teaching elements.
Teachers can foster early learning by thoughtfully considering the Learning Foundations in the planning of environments and activities.
During every step in planning, teachers have an opportunity to tap into the prominent role of play, supporting young children both by encouraging the rich learning that occurs in children's self-initiated play and by introducing purposeful instructional activities that playfully engage young children in learning.
For more information, visit the California Department of Education
website here
.
Universal Pre-K in California
Los Angeles county offers a separate universal pre-K program known as the Los Angeles Universal Preschool program. It's for 4-year-old children, regardless of parental income.
San Francisco also offers a part-time universal pre-K for all 4-year-olds in some communities. Check out the Office of Early Care and Education or information on child care programs, services and subsidies.
QRIS in California
California has a collective of county and regional QRIS programs. Each QRIS in California:
Assesses program quality
Aligns program standards with early learning and practitioner standards
Supports continuous quality improvement for participating programs and their staff
Provides families with information about program quality to assist them in making informed choices
Educa helps educators incorporate the California Learning & Development Foundation into their communication with parents, creating understanding and engagement.
Request Free Demo