The sets below are available in Educa. We are adding more, as requested by customers.
Overview of Frameworks in Educa
Educa has a library of preloaded early learning curriculum goals, government and state early learning guidelines, frameworks and quality standards that can link to child activities.
We are adding to this list all the time, as per customer requests,  including their own curriculum. Click on the links to learn more.
Note, this list also includes teacher standards, that can be referred to as part of teacher reflections or teacher stories in the private Teacher Portfolio section of Educa.
Global
Montessori Essential Elements
Montessori Material Aims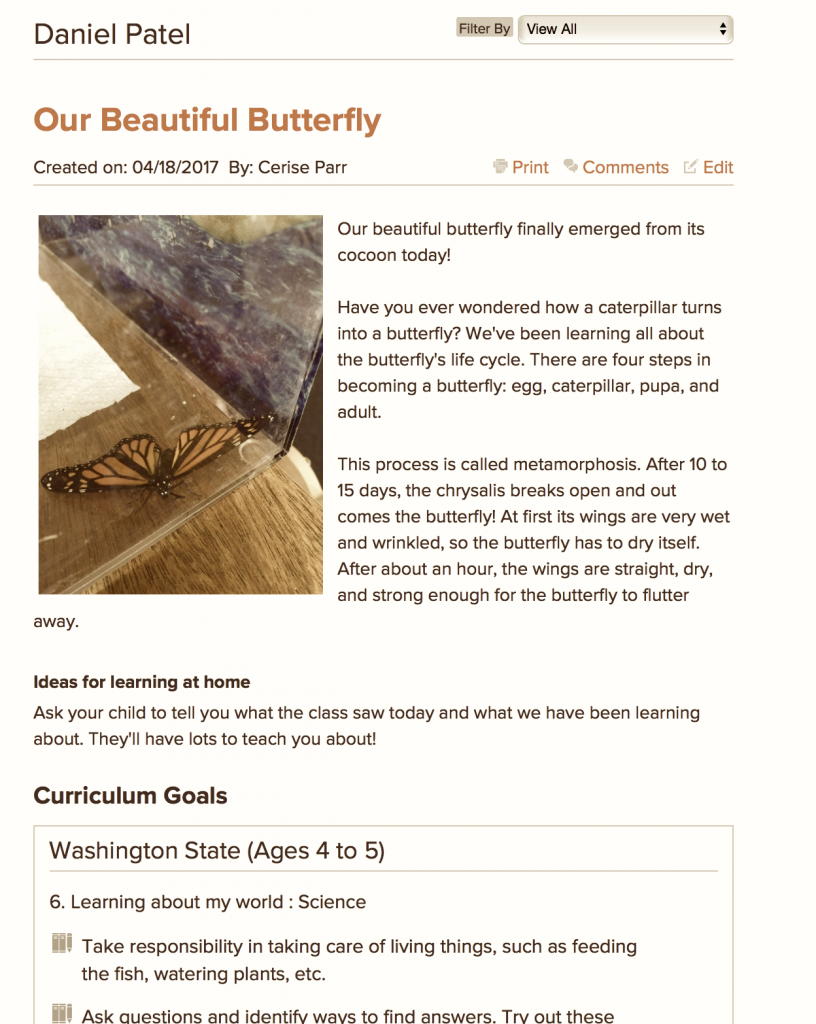 As of 2016, every state in the US has issued at least one set of early learning curriculum or guidelines. Educa has the curriculum goals below already loaded into its library. Any other state or specialty frameworks can be added by request.
NAEYC Code of Ethics (for teacher development linking)
DRDP (for Head Start and several states)
Head Start Early Learning Outcomes Framework
Pre-K Foundation for Common Core
California
California Learning & Development Foundations
DRDP (2015) – added Ratings feature using learning stories in Educa here
Colorado
Colorado Preschool Standards (taken from the Colorado Academic Standards (CAS) for all 10 content areas).
Florida
Florida Early Learning And Developmental Standards For Four-Year-Olds
Idaho
Idaho Early Learning eGuidelines
Illinois
Illinois Early Learning and Development Standards (IELDS) and Early Learning Guidelines for Children Birth to Age
Massachusetts
Massachusetts Guidelines for Preschool Learning Experiences
Massachusetts Early Learning Guidelines for Infants and Toddlers
Minnesota
New Jersey
New Jersey Preschool Teaching and Learning Standards and Birth to Three Early Learning Standards
New York
New York State Early Learning Guidelines
The New York State Prekindergarten Foundation for the Common Core
North Carolina
North Carolina Foundations for Early Learning and Development
Texas
Texas Infant, Toddler and 3-Year-Old Early Learning Guidelines
Texas Prekindergarten Guidelines (Up to 48 months)
Virginia
Virginia's Foundation Blocks for Early Learning: Comprehensive Standards for Four Year Olds
Virginia's Milestones of Child Development
Washington
Washington State Early Learning and Development Guidelines (by age group)
Wisconsin
Wisconsin Model Early Learning Standards
The Early Years Foundation Stage (EYFS)