Assessment using Learning Stories

For Head Start & state-funded programs
Authentic assessment that fits your process
Simpler documentation means more time for teaching.
Teachers:
observe, interact and reflect on each child

document stories and:

link to DRDP measures

share with families

save to child's portfolio

Families respond to stories and collaborate
Assessment process
» DRDP ratings – stories as evidence
» Update unrated measures
» Export and reports
DRDP is accepted for Head Start. More on the DRDP here
Review and finalise DRDP ratings, add observations for unrated measures.
Learning stories for DRDP ratings here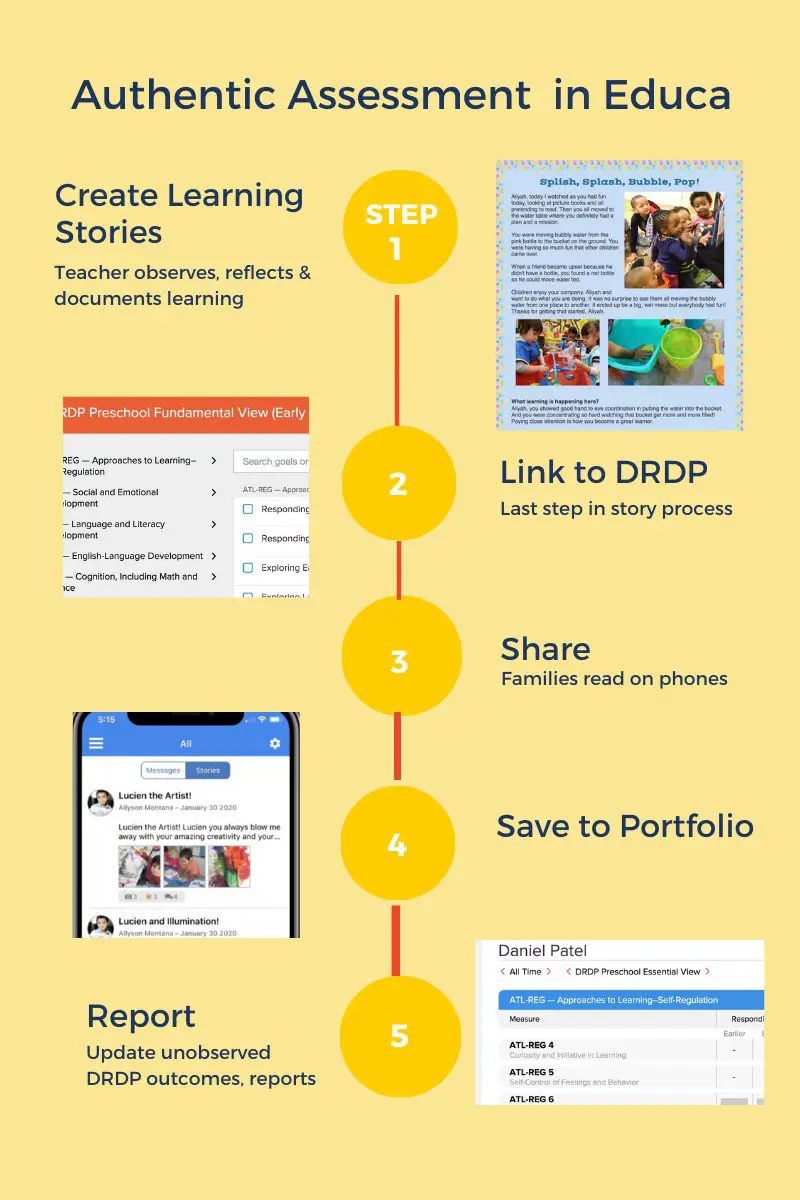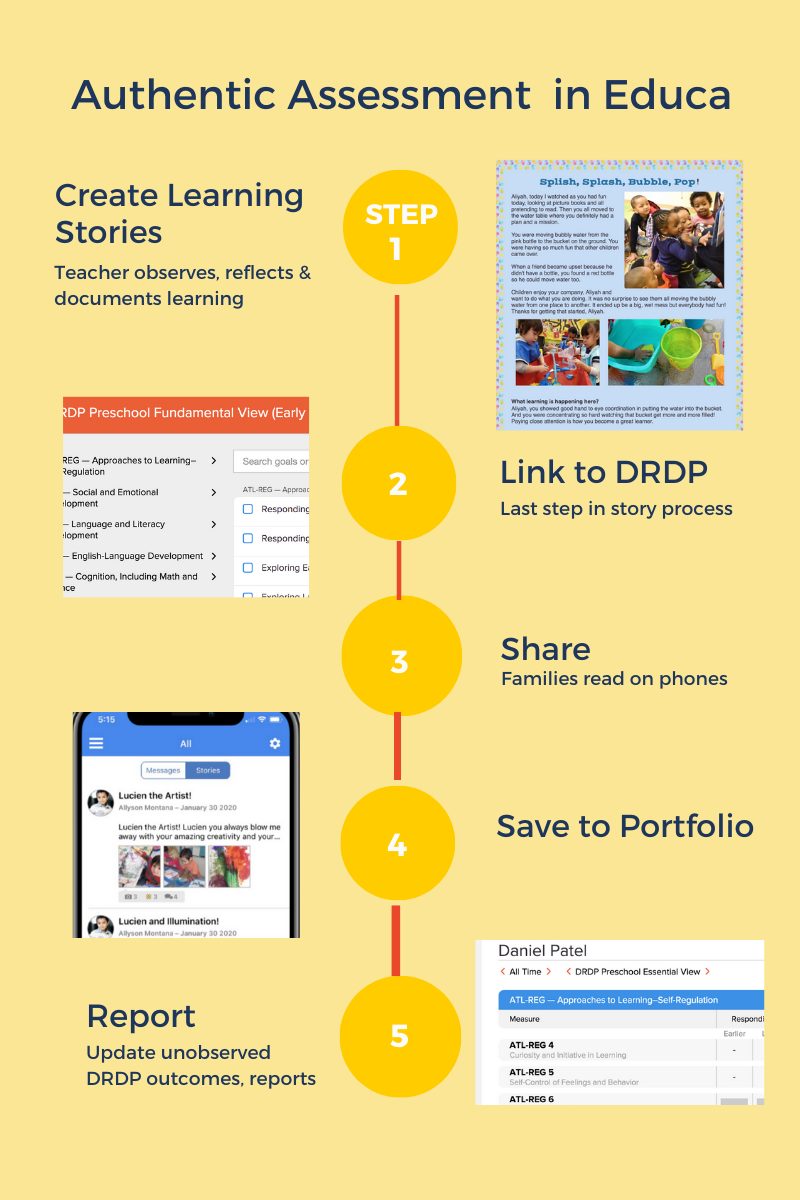 Assessment for learning
Learning stories were developed in New Zealand to capture each child's unique journey in a way that checklists just can't. They are reflections that include planning next steps. More here.
Document to engage families
Learning stories use an informal, storytelling approach, generally written to the child. This resonates with families, builds understanding and a basis for real conversations and collaboration.
Custom data exports
Educa customers can one-click export class data to DRDP Online. Educa support can also create custom Excel exports to meet state or agency needs. Furthermore, there are one-click PDF reports for families.
Create networks for sharing
Educa has a Network Hub (coming soon) option that will allow regulators to create networks of centers – message, share training, document templates or request snapshot reports.
Link to DRDP and ELOF and ...
Connect stories to DRDP measures and/or the Head Start ELOF as you go. Educators have help descriptions to guide them, parents see snippets of outcomes as reference points. Any public framework can be added.
Reduce teacher pushback
Checklists are time-consuming and soul destroying because they're not read by parents and only loosely related to outcomes. Whereas learning stories connect educators to why they chose early education. More here
Why the DRDP?
The DRDP is research-based and ELOF-aligned.
Open-source assessment for all centers.
See the DRDP in Educa
Comprehensive Platform For ECE
All educational needs in one place.
Educa supports your program cycle end to end.
» Differentiated planning
» Custom forms for collecting child info
» Learning story templates
» Child portfolios
» Parent and teacher messaging
Online, all in one place
Educa is organized around each child's profile. From "About Me," Home Language Surveys to Planning to IEPs, etc. to a learning story portfolio. All in one place and visible – supports collaboration and best practice.
Versatile communication
Educa will become the focal point to center communications. There's a Message Board for news and announcements – to families as a community, by class or any other grouping, e.g., families at home, volunteers. Educa also has separate teacher messaging.
Teacher workflow support
Educa has optional story review workflow that gives senior educators a way to train and mentor in real time. Senior teachers can also be linked to plans and stories to help maintain and lift quality at every step.
Each teacher has a private workspace. It includes a teacher portfolio for reflective practice, professional plans, document storage and collaboration opportunities with peers and mentors.
Should Educa be on your assessment list?
A 15-minute screen share is all you'll need.