Authentic Assessment for Head Start

Share Learning Stories with families, link to the DRDP
End-to-end program documentation
Educa, originated in New Zealand and now in the US, fully supports Head Start programs with a systematic approach that fosters authentic learning and assessment using the DRDP through a learning story-based cycle. It supports:
Individualized learning
Parent engagement
DRDP assessment ratings
Individualized Learning
Learning stories provide a blank canvas for an educator to fully capture the magic of early learning, the last step being a link to the DRDP.
The customizable story template includes a "What's Next?" section where educators share differentiated planning.
Parent Engagement
Learning stories are written to be read – by families and to children. The narrative format is less intimidating, feedback is more natural.
Stories enable collaboration, informed family feedback based on an understanding of the educator's approach and a platform for sharing guidance on ways to continue the learning at home.
DRDP Ratings
Ratings auto-populate from story links – learning stories are the evidence of learning. Educators can see unrated measures and then update manually to complete. Centers share PDF reports with families and aggregated data in Excel with regulators.
Centers can only use Educa for Head Start in regions where the DRDP has been approved. This is a growing list that currently includes California and Minnesota. More on the DRDP here.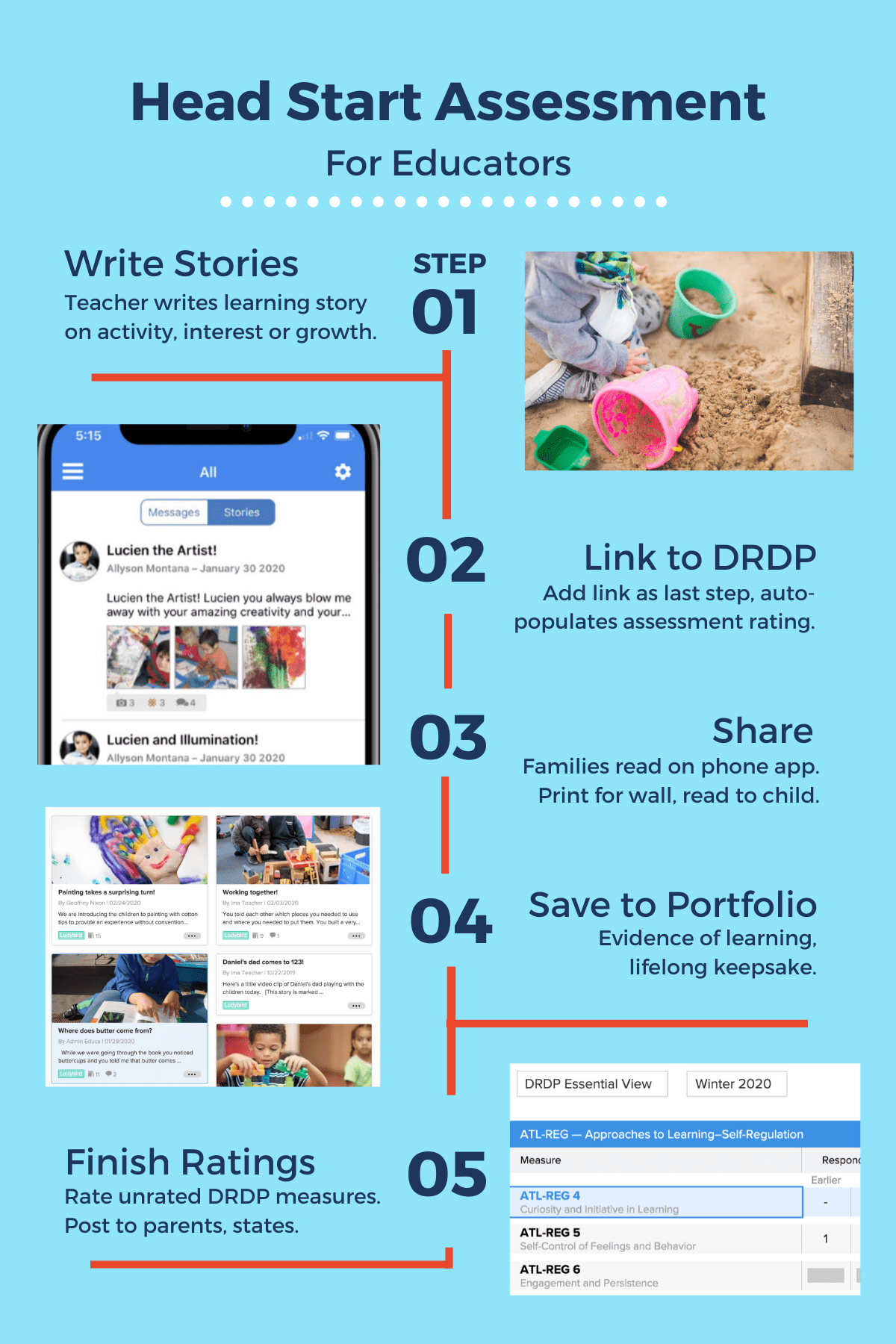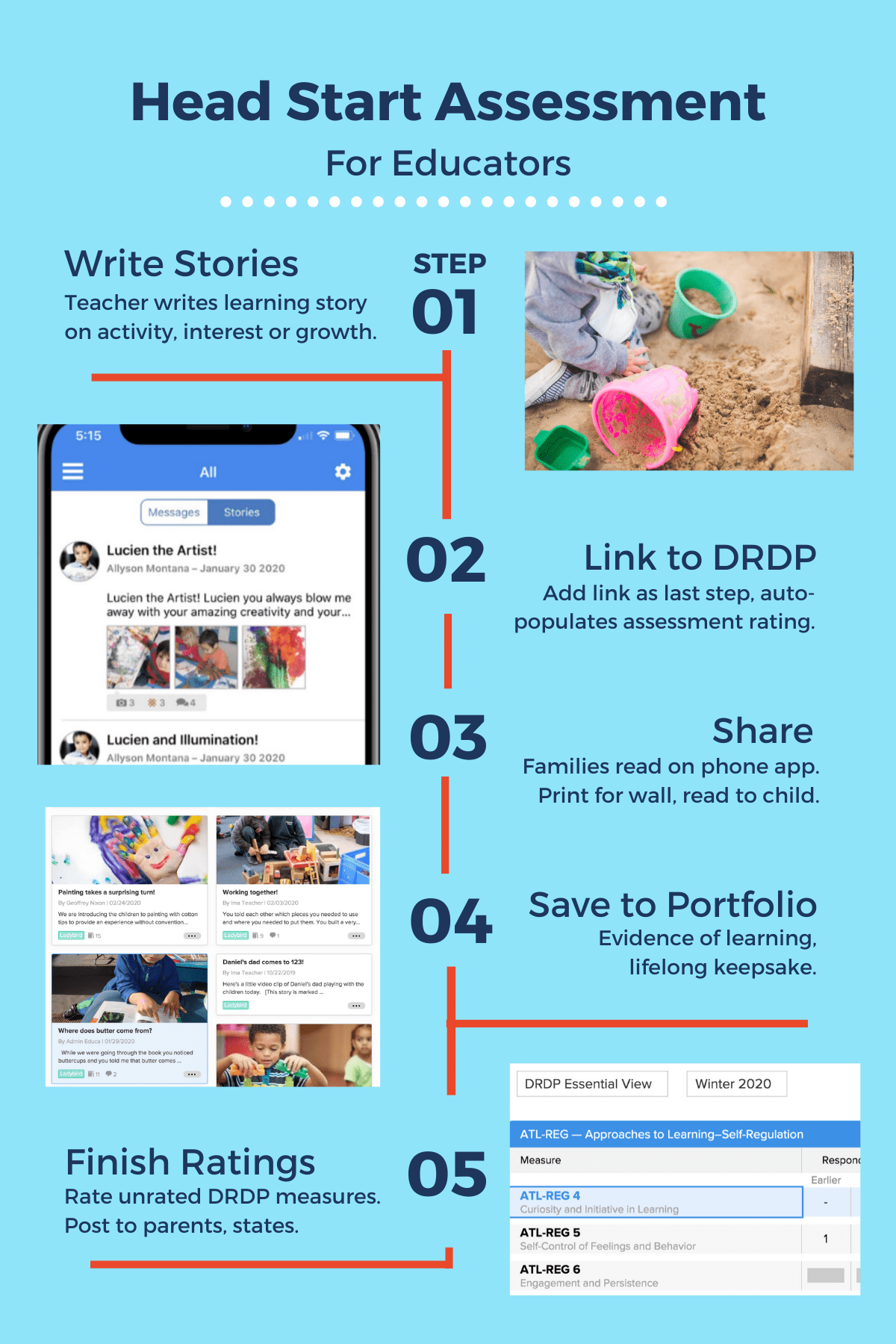 Individualized learning
Educa uses learning story templates to help educators celebrate each child's unique journey. Understanding what represents growth for a child and writing about it to parents requires careful observation and reflection, the key to individualized learning. More here.
Support families at home
Educa is a sharing platform. Learning stories use a storytelling approach that resonates with families and builds understanding. The goal is 24/7 learning – each story can include ways to continue the learning at home.
DRDP - valid and reliable
DRDP© is a research-backed, valid and reliable assessment framework, aligned to the ELOF. It covers all children from birth to five, including dual language learners and those with disabilities. More here.
Learning stories are efficient
Each story is a reflection on the whole child, covering a number of aspects of learning. And so it's not uncommon to link 8-10 measures to a story. "Group stories" in Educa can be used for similar or shared experiences.
Building a sense of identity
Learning stories are often printed and read to child. Hearing what they did well helps children understand themselves better as learners. This is reinforced by families who see the stories also. More here
Easy data export
Educa customers can one-click export class data to DRDP Online. Educa support can also create custom Excel exports to meet state or agency needs. Furthermore, there are one-click PDF reports for families.
Why the DRDP?
The DRDP is research-based and ELOF-aligned.
Open-source Head Start assessment for all centers.
See the DRDP in Educa
Add guidance to stories
Learning story templates include a section where educators describe follow-on ideas to promote 24/7 learning.
Keeping connected
Educa helps teachers and families stay connected at all times, even if the center is closed.
Share help videos
Educators can include videos in the Resources section of each center's private Educa URL to support families at home.
Real-time engagement
Families receive push notifications on the free Educa phone app so that parents can talk to their child while it's fresh.
Private family communication
Educa is a private channel for the center community – a message board for center and class news and a story feed about each child.
Child portfolio
Centers can share everything in the child profile – home life info, plans, stories and assessments. All in one place.
Educa Also Provides …
Family Surveys
Centers can use our Home Language, Home Routines or create custom forms to help understand each child.
Differentiated Plans
Use our planning module to develop individualized plans for each child, linked to frameworks and stories.
School Readiness
Educa has Transition Statements, School Readiness and other forms to document a child's journey.