DRDP Assessment in Educa

Use learning stories as evidence of DRDP ratings.
For Head Start & State-Funded Programs
Authentic assessment in real-time that communicates a child's unique story.
Head Start and state-funded programs can now use Educa to engage families while meeting their documentation and assessment reporting requirements.
Share learning stories, link to DRDP measures as you go.

At period end, add observations and rate unrated measures.

Beautiful progress reports for families.

One-click export data by class or center. 
By making the DRDP assessment rating the last step, assessment does not get in the way.  It fits your process and allows you to focus on each child's unique journey, all year long.
Note, the DRDP assessment framework is a public resource, approved for Head Start (varies by grantee) and several states.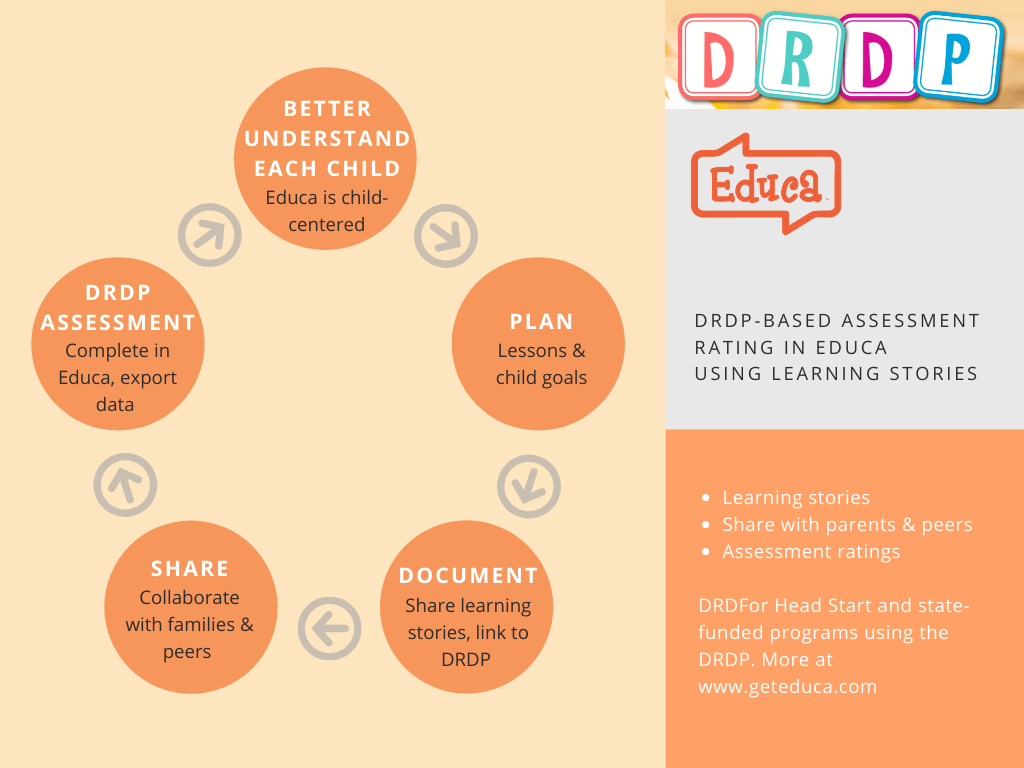 One-Click Export
Save time with a one-click export by class in the required DRDP Online format.
Parent-Friendly Reports
Educa generates automatic reports that parents can understand that can be used for parent conference.
Link Stories to Multiple Measures
Learning stories is often a culmination of observations and reflections that concern the whole child and therefore a number of measures can be connected.
Unrated Measures at a Glance
Add evidence to support your ratings in measures that do not have learning story links. Unrated measures are highlighted for your rating period.
Meet your DRDP obligations without compromising.
Educa helps you focus on each child's unique journey.
SEE A DEMO
Connect To Each Child
Educa helps keep teacher attention on each child – observing, sharing learning stories day to day, DRDP ratings at period end only.
Refer to Prior Ratings
Everything captured in Educa stays in Educa. Ratings for prior periods are at your fingertips.
DRDP Info
Enter center and child details once and then include in any export. More on DRDP Online and research here.
Supporting Documentation
Educa has dozens of templates – home language surveys, home routines, screenings, IEPs – or create your own.
Head Start ELOF
Educa has the HS Early Learning Outcomes Framework integrated and available for linking and parent reporting. HSELOF to DRDP Alignment here.
Oversight in Real Time
Supervisors can track teacher and child activity, ratings progress in real time.