Capture special moments as they happen.
No more post-it notes.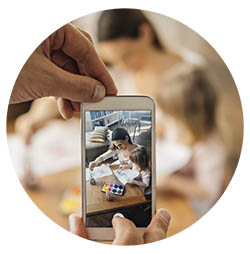 ---

80% of ECE educators surveyed said Educa saves them time creating learning stories and observations.
---
LEARNING STORIES AND OBSERVATIONS MADE EASY
Create learning stories and observations on-the-go from any device, save drafts and come back to them later.
Share videos, photos and audio privately with family.
Link EYLF outcomes to learning stories and observations.
BUILD STRONG RELATIONSHIPS
Gain valuable feedback from family members.
Communicate instantly with other educators and directors.
Collaborate with parents and caregivers.
WORK HOW YOU WORK BEST
Still using paper books? Print beautiful stories using our print wizard.
Turn on the peer review module to allow a coworker to check your work before sharing it with parents.
Turn on your own personalised curriculum.
PROFESSIONAL DEVELOPMENT
Meet elements within Quality Area 1: Educational Program & Practice.
Complement and enhance pedagogical practices.
Track your progress with powerful reporting tools.
---
---