Puppets are magical creatures for early childhood settings. They can give instructions, turn tears to laughter and be used in imaginative play by small hands and large. Using puppets to engage early learners offers multiple benefits across the curriculum and for social/emotional development.
Here are 5 ways you can use puppets to engage and enchant early learners (and teach them too!)
1. Puppets Lead the Way
We know that sometimes when children start in a new space it can all be a bit overwhelming. Being asked to look after a new friend often gives them a sense of purpose (and something soft to cuddle). A puppet can be there for a shy child to say hello to in the morning, to walk them around, read books with them and wave goodbye until next time.
 Puppets who lead by example
Puppets can praise, be role models or explain how things are done, they just need some movement and a different voice. Your skills as a puppet master don't need to be Broadway polished to be effective. Play hide and seek with a puppet outside to develop problem solving skills, cognitive awareness and teamwork (for a group search activity).
A supportive puppet can model social interactions, like ways to ask to play with a toy. Get children to act out their feelings or voice their fears or frustrations to a puppet.
2. Unstructured Puppet Play
Finger puppets are perfect for the littlest of hands to invent stories galore. Early learners can take on different characters and often shy children interact more easily as their puppet persona. Use themed sets of finger puppets (like these animals from IKEA) as part of an inquiry table. If finger puppets have a special "home" it can be part of the play, then storage for when puppets need their "sleep".
Source: IKEA Catalogue
Older children can invent and perform their own plays. We love this makeshift puppet stage from 'and we play', where children can put on their own show (inside or outside).
TIP: Puppet performances make great videos to share with parents using Educa.
Source: 'and we play'
3. Creative Arts – DIY Puppets
Puppet making is a great 'take home' or 'return to later' activity for early learners.
Use paper bags to either make a pre-designed puppet or just put out bags, glue and an assortment of items (feathers/eyes/fabric off cuts) for kids to experiment and design their own!
Craft sticks and plastic spoons are fantastic resources for puppet making too.
Craft stick puppets can be made by –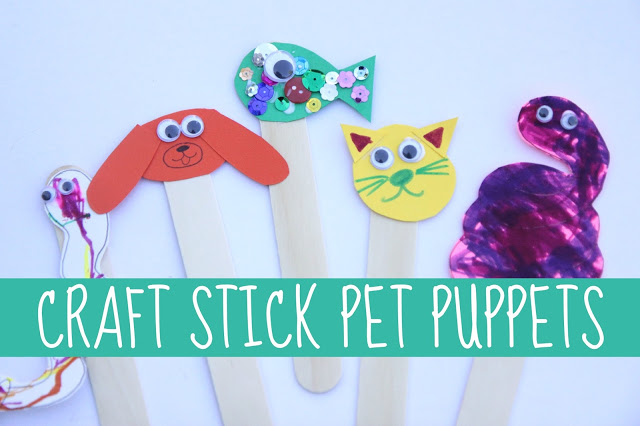 Making a body and gluing it onto the stick. Like these pets from Toddler Approved. 
Drawing directly onto the craft stick
Advanced: gluing craft sticks together to make the puppet – like this popsicle stick fish
Warning: small plastic eyes can be a choking hazard but felt/sticker eyes work just as well.
Upcycle to make puppets. The opshop/thriftshop is a fantastic place to collect resources for puppet making. Old tights can be stuffed with newspaper to make heads. Cut fingers off gloves for finger puppets. Use old socks to make sock puppets.
If you have time – how about making these talking puppets with the children – you fold – they decorate and talk – great hand strengthening activity!
4. Puppet Storytellers
Puppets can tell stories on their own (with a little help from you) or make a book come to life. Puppets are also a great tool for teaching rhyme in early literacy development. Acting out a story with puppets captures children's attention to help them focus on the story. Pair a shop bought puppet with a book or make your own (like these great d.i.y spoon puppets made by Jenna Bee).
Source: puppets/photo by Jenna Bee
Want some story ideas? Here's a downloadable pdf with 11 Story Book Ideas PDF
5. Sing-a-long Puppets
Puppets can sing high, sing low, sing loud, sing soft.  Get the puppet to lead the singing – or use a multimedia puppet to do the singing for you!
Numeracy Songs: There are not five but more than five hundred versions of the "finger family song" using finger puppets. Here are several of them for you to choose from in the Animals Finger Family Song – Mega Finger Family Collection Part 2!
No post about puppets would be complete without those most famous of puppets who have been singing, dancing and teaching kids since 1969.
It seems only fitting that they have the last word
"Come on and move your body and use your mind, because you know, you are growing all the time. You're getting smarter, stronger, kinder, on Sesame Street!"