Maintaining Learning Momentum At Home and Center
For parents of preschool and younger children, 2020 has been a stressful year. They had trusted that their children's developmental needs were in good hands, met by capable educators at their child's early learning center.  Suddenly Covid-19 hits and families find themselves responsible for full-time at-home early learning.
That can feel overwhelming for parents of younger children for two reasons:
While they may remember their school days, most will not remember their early childhood educational experiences.
Early childhood education has changed a lot over the last few years – it's not babysitting anymore, and play is not just play!
As coronavirus picture remains unclear, child care centers and schools are having to decide whether they can meet their State or city's guidelines and still continue to offer in-person teaching. Oftentimes these local social distancing rules are forcing early childhood centers to close their doors or move to a hybrid model where each child comes in for 2-3 days a week.
Under all of these scenarios, parents are going to have to play a bigger part in their child's at-home early learning.
And early childhood educators will need to support them in this role.
This is not as challenging in this digital age as it would have been just a few years ago. We are all discovering that the virtual connections we have through Zoom and our apps, while not quite as strong as in person, are actually quite functional and viable.  It's a matter of having the right online tools.  Online platforms like Educa make it possible for educators help parents bring out their inner teacher and continue the learning momentum.
Coach Parents on Learning Stories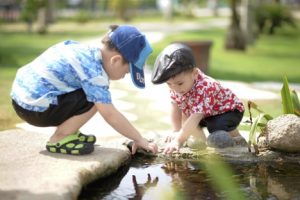 Many centers already use learning stories to capture and assess learning.  There a compelling reasons to use learning stories to do with learning visibility and the process of reflection about each child.
They are even more helpful in these times where a parent's voice is needed.
While checklists or assessment forms are intimidating, Learning Stories are not.  It is simply the telling of stories, not unfamiliar to parents. They can think of these stories as letters to their children or diary entries about their child.  With a little bit of coaching they can  contribute meaningful reflections on learning to their child's portfolio.
Families can capture pictures and videos of their children at home. Encourage parents to include a brief explanation about what their child is doing and describe anything that is unique or special about their child's approach to learning, or that might represent a change from prior behavior.
Parent Stories
In Educa, these are called parent stories.
Once the stories are online, teachers can provide feedback as they would in a traditional learning story. They might recognize new behavior, identify developmental skills or reflect on possible next steps for the child – at home and in center – to extend the learning. The teacher might also link the parent story to a plan, unifying the home and school experience.  It is also possible in Educa to upload parent stories for linking to frameworks.
This simple interaction between parents and teachers can help reassure parents that the activities they're engaging in at home are, in fact, helpful and contributing to their child's learning journey. It will also help parents see how their child is progressing. By giving them supportive feedback, teachers can show parents ways to support their child's at-home early learning.
Challenge Parents to Capture Learning
Consider sharing your planning with parents.
If you are going to be sharing time with your parents, it is worth taking the time to let them know your current plans for their child, what aspects of their child's learning that you are thinking about developing. This might be converted into interactions or learning experiences you had planned that could be done or continued at home.
Then, challenge parents to take a photo or video to share with teachers.
This is a great way to show parents what learning looks like for young children. Parents will start to incorporate these targeted practices into their at-home environment. This will help parents recognize the ways they can support intentional play to promote children's learning.
Help Parents Take Advantage of Being Experts on Their Child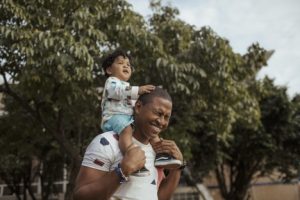 During at-home learning, parents become their children's teachers. For many parents, this is a daunting task. They don't have the expertise in child development that early childhood educators do.
However, nobody on the planet understands a child like a parent does, including understanding their strengths, interests, needs and challenges. That's a lot to work with in at-home early learning.
Teachers and child care centers can support families by helping them turn this unique knowledge and understanding of their child into valuable learning experiences. There are many ways to do this. When school is closed, reach out to families in some of these ways:
Create plans that include a "Parent's Voice" – a collaboration that parents can access in their child's profile on Educa.
Add personalized child development tips from teachers, sent through Educa via the Notes feature.
Add an ideas for home to a weekly newsletter – or message board post in Educa.
Consider sharing articles of links on your educational philosophy or approach or articles on play and early learning in general, from NAEYC or Zero to Three
Just In TIme, Not Just in Case
Given their new responsibilities as their child's teacher, your planning and approach will be of more interest now.  It's like anything, information is more likely to be taken in when it's "just in time" (to apply to the at-home early learning role right now) versus "just in case."  By empowering parents and caregivers with knowledge, they will feel confident in their ability to contribute to their child's learning
And of course, once things are back to normal, and the children are back at your center full-time, because of this period, your parents will be more informed partners in their child's education.  This is indeed a silver lining in a challenging period for all of us.
How has your early childhood center engaged parents during periods of shutdowns?