Never-ending resources for preschool lesson plans.
Stop reinventing the wheel. Use these hacks to inspire next-level lesson planning in your early childhood service. You'll also be able to download an array of ready-made plans. It's no doubt that lesson plans give your sessions and activities a structure, work as a checklist for the resources you need, allow you to anticipate how the activity will unfurl and give you a base from which you can reflect on your practice and more. They also give early learners an insight into an activity's structure and sequence.
Here's your resource list on where to find lesson plans:
ECRH: Early Childhood Resource Hub
If you're the kind of educator who likes to investigate the 'why' of teaching a topic before you create (or download) lesson plans, this is a nifty resource. It offers e-books and games as well as factual guides about inclusiveness and cultural awareness. The link below will get you to the learning materials and planning cards for early childhood educators. The site has been live since April 2016.
PINTEREST
A gorgeous visual smorgasbord of ideas and plans. You might have a seed of an idea and need to grow it and that's what this site will do for you. However, be warned! Overwhelm is a risk once you dip your toe into here. Got time to kill? Here's 3002 of the best ideas for early childhood educators.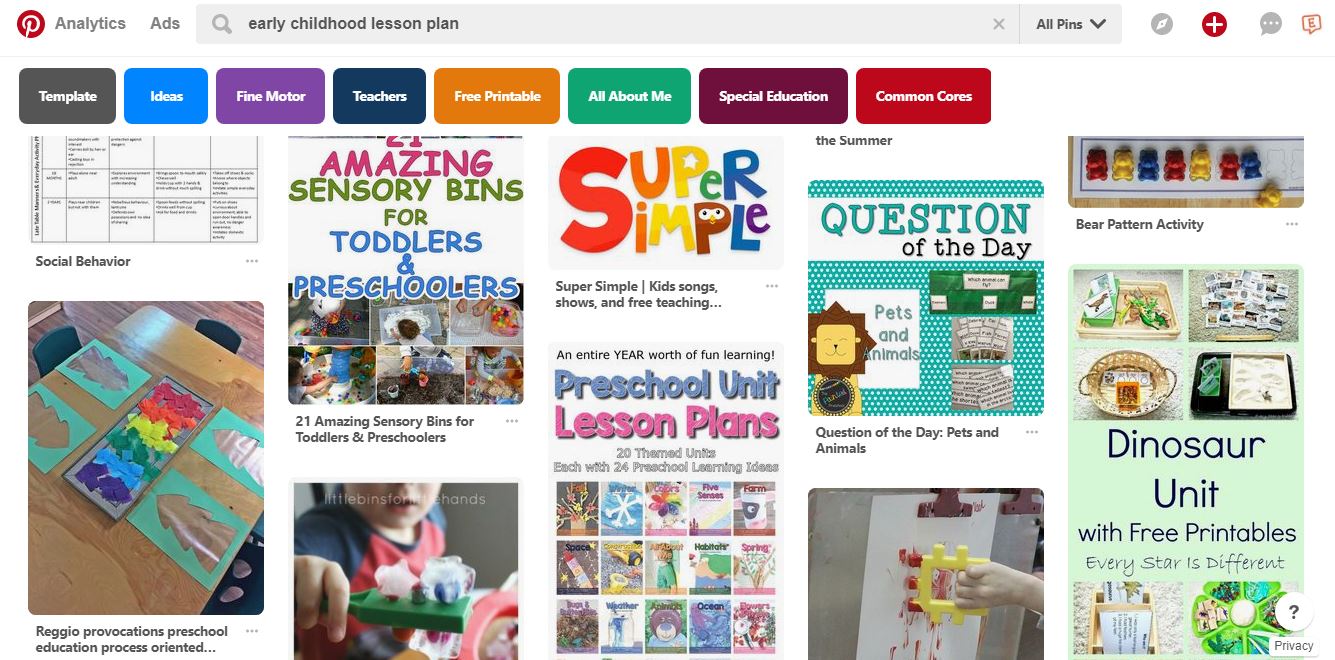 LEGO
With Lego a fixture in our homes, on films, online games, and larger block versions in our early childhood services, it's a great way to engage learning by pivoting off these blocky figures. This site has 45 resources for the pre-school and foundation year.
TES
You'll find more than 700,000 teaching resources here, but they do slant towards pre-school or the foundation year rather than for the earlier years. TES is a global community of educators and teachers and at any time there are about 718,000 users on the site. There is no fee to join or access many of their free resources although there are others that cost.
YOUTUBE
This is our go-to site for inspiration, dynamic visual explainers and engaged content. This link is to best-practice lesson planning and it definitely has an international feel to it.
TEACHERS PAY TEACHERS
This e-commerce site has more than 7,000 hits when you search the category 'early childhood' but most resources have a cost. There may be more money in lesson-plan writing than you think. A kindergarten teacher made $700,000 way back in 2012 selling her lesson plans online to this site, according to Mashable Australia.
TWITTER
Just search for '#earlyyears' and off you go into a deep vortex. No, that's too dark. Twitter is great for posing questions, asking for help and sharing. It's nice to have others curate info on a topic that's piqued your interest.
FACEBOOK
We'll be swayed by the numbers here, ok. Early Childhood Inspirations has a whopping global audience of 79,000-plus followers. It's five-years strong and targets not just teachers, but parents, too.
EDUCA
Here's our popular blog post from the past featuring a few more useful sites.