Share Today's Progress, Today
The families of your early childhood education setting want to have meaningful conversations about their children. And in today's world to be meaningful, it has to be in real time, as it happens.
Is your learning documentation getting the reaction from families you'd hoped for?  Are you using paper or a moment-sharing app that is not really fit for purpose?  There is a hunger today for meaningful sharing, families want to contribute to their child's education.
Are you providing families with that precious opportunity? Are you online – and are you writing Learning Stories?
Consider these two images of tourists in the Sistine Chapel – notice the prevalence of phones in 2013!

If you want a parent to respond to a story, you cannot beat a push notification on a phone!  Parents read about the learning as it is happening, and react in real-time.
Authentic family collaboration – two-way communication, parents and teachers around each child working together – is the Holy Grail of early education as it leads to a shared understanding of each child, the starting point for great teaching and a great education.  Teacher planning benefits from family feedback, course correction ideas and the ability to pass on themes to continue at home.
Partnerships Take Effort
However, drawing families into this kind of partnership is not easy.  Today's parents are busy and connecting with them is more and more challenging. Time pressures, language barriers and different views of a child's needs can get in the way of an open and trusting relationship between teachers and parents.
Not to mention, your day is busy too. Drop offs are more frantic, and generally, getting families to read and react to anything you send is a challenge.
However, the reward from sharing is significant. The parents are the world experts on their child, no less. They have so much to contribute to their child's education. If only.
Steps to Frequent Collaboration
Here are two essential parts to a genuine working partnership with families:
Share learning
In a trusted channel
Shared understanding around the learning and teaching, an open channel of communication so that messages will be read.
This is how thousands of teachers, using Educa, are working closely with families in partnerships that are satisfying for parents because it gives them regular opportunities to contribute to their child's education, and career-affirming for teachers as it helps them be better at what they do.
1. Share Learning – Learning Stories
Learning Stories are a way to document learning for compliance that can also be used to engage and inform families and build shared understanding. This a story-telling assessment format written for the child and for parents.  They document learning and the teachers response the learning, next steps for a child.
The blank canvas of a Learning Story (as opposed to a checklist or series of observation snippets) provides an opportunity for educators to bring other adults (teaching peers, families) up to speed. They can describe the learning, connect it to prior events or insights from others. They can also describe their teaching – connecting the story events to their plans for a child and the educational philosophies involved.
Learning Stories create learning visibility, giving families enough of an understanding to make their reactions to the learning more meaningful.
Learning Stories also provide a way for educators to express their love for a child and to acknowledge family aspirations for their child.  Part of this is weaving family expectations and family feedback that informed teaching into the narrative. This kind of narrative builds the sense of a joined mission, educators and families working toward shared goals for a child.
2. Trusted Channel – Where It's Safe to Share
Writing stories is one thing, having them read and responded to is another.  Drop off is busy, Learning Stories in a backpack are often not read, let alone responded to, and parent meetings  are sporadic. Learning moments pass quickly, they fade. While each one if shared is an opportunity to extend and build, if it's not shared, it's an opportunity lost.
Today, the most robust and reliable channels of communication are digital. That's where your parents are, on their phone – it's the "remote control for their life!" And so that's where you need to go if you want to start a conversation.
And even then, you have to be selective. These days, email inboxes and Facebook feeds are cluttered, neither work as well as they once did. Solving this problem is part of the magic of Educa.
It's a separate and private channel.  Educa is a fully-featured platform that all users – educators and families – can access online.  However, it is also a discrete app and icon on a parent's phone – Educa has free parent apps, iOS and Android.  Parents get a push notification every time a story is published, they tap to read the story immediately and can then comment right away and/or discuss the story with the child and then provide feedback.
This convenient and real-time digital communication fits the expectations of today's young parents.
Educators using Educa also benefit from the other reasons so much of what we all do all day long has moved online – they can work together on stories and other documentation, it's all in one place and they can access Educa from anywhere, at any time.
Print Is Still Important
Many educators are attached to paper documentation, paper Learning Stories. Children love to see and touch their stories, parents do too. And reading a Learning Story to the child hero of the story has to be one of the favorite parts of a teacher's day. Educa is an online platform that has gone to great lengths to make stories beautiful to print for these reasons.
A child's reaction to their story is particularly valuable. It helps children understand themselves as learners.  Furthermore, the child's reaction to his/her story might vary depending on the reader – educator or parent – which is helpful to collaborating adults.
Frequent Sharing – Benefits
Once a working partnership with families forms, so much is possible.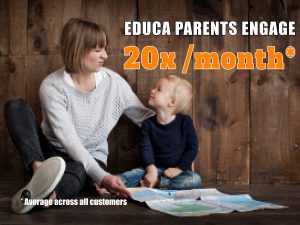 You love the children in your class. You are doing the very best to create learning experiences for each of them each and every day. And you think you are on the right track, but you wonder.  What is the family seeing at home? Is there something in the child's past that explains today's behavior? Is this the right, track, should I course correct?  It would be great to continue this same strategy at home…
The convenience and immediacy of an online connection makes the routine of regular sharing possible.  Individual stories, group stories, comments  online.  And then, if the moment requires, meaningful in-person conversations resulting from the learning visibility of the learning stories.
On average parents engage with Educa 20x a month and engage in 5.4 conversations a month. This does not include the  in-person conversations that occur as a result of the learning visibility at home and during the day.
Here are a few other family engagement ideas.
Start a habit of regular sharing with your families.  Find out how Educa can help your practice.